News in brief
In 1966 the academy of Ecuador, which had entrusted a number of historians with the task of writing the history of Ecuador, suspended their commission, after having been convinced of the veracity of Moricz' claims. A prominent historian of this group was Guillermo Segarra, who had already started learning to speak Hungarian and carried out his ancient homeland research with extraordinary devotion. It transpired that, when he still lacked a Hungarian dictionary he contacted Moricz in order to clarify whether or not the names BALIN and BALHUG, which occurred frequently in the AZUNY1 province, should be classified as belonging to the ancient Magyar names. Moricz joyfully informed him that these names corresponded to the family names BÁLINT and BALOGH respectively.
The Instituto de Antropologia y Geografia del Ecuador (Institute for Anthropology and Geography of Ecuador) also reached the conclusion that the ancient language wantonly exterminated by the Spanish was the Magyar language. The scientific journal of the institute is published under the name "Llacta" because it means "settlement" in the ancient language, that is, we (Magyars) could in our language of today call it "LAKTA".2
The city of Cuenca, which was built on the spot of the once-famous city of MÓR, is one of Ecuador's most aristocratic cities. The inhabitants of Cuenca are proud of their high level of culture. The ancient inhabitants however still call themselves simply MORLACOS,3 that is, MÓRLAKÓ – "inhabitant of Mór".
Mysterious Magyar-speaking tribes (clans)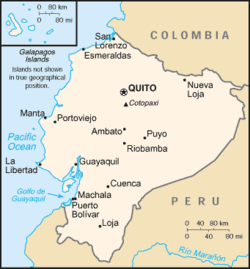 The Saraguro tribe – which although it occurs in our chronicles still cannot be found with absolute certainty in the Carpathian Basin – is even today living their lives in large family units (familial clans) in Ecuador.
The language of the "Red Indians" living in the vicinity of Santo Domingo de los Colorados was ancient Magyar, which they still speak to this day.
Near the Colombian border, in the upper flow of the Santiago River, between the rivers Onzole and Cayapas lives the "Cayapas" tribe whose language is likewise ancient Magyar which they speak even today.
Beyond the Eastern Cordillera of Ecuador's Andes Mountains, the tribes living deep in the ancient rain forests of Amazonas have managed to keep their ancient Magyar language, although escaping from the Spanish absolutism they had to give up many of their cultural achievements in order to keep their independence.
It will be very easy to ascertain the origins of the tribes and familial clans of the present-day Hungarian nation, due to the wise foresight on which basis families or clans were chosen for migration, so that only a part of every individual family or clan were brought over, in order that the family tree would not die out in the ancient homeland.
Moricz never uses the "hungaro" expression, which means Magyar in Spanish, but always writes and says Magyar. This became so entrenched in the Ecuadorians that on one occasion he was faced by two gentlemen who wanted him to resolve the argument that had developed between them. "Sir – said one of them – imagine that this gentleman dares to claim that the 'hungaros' are identical to the 'magyars'. This was all we needed now: to confuse the 'hungaros' with the greatest people of the earth, the 'magyars'! Can you imagine!" "Sir – said the other – I did not claim that they were identical, because this is impossible. I merely said, that as far as I know, some connection exists nevertheless between the 'hungaros' and the 'magyars'."
Azuay [↩]
'Lak' is the root word in Hungarian for anything to do with living quarters, apartments, settlements, habitation etc. [↩]
I have found references to 'morlacos' in Cuenca, for instance, their local football team is nicknamed "Morlacos". Also, a book called "Ecuador – Portrait of a People" by Albert B. Franklin, mentions a "land of the Morlacos." [↩]